Step 1 Sign Up and Log In: Begin by signing up for a MyBarn account or logging in if you already have one.
Step 2 Select a Product Category: As an example, let's consider the "Ready to Eat" series. Click on [Products] and then select [Ready to Eat Series] from the menu.
Step 3 Browse and Choose Products: Browse the available products and select the ones you're interested in purchasing.
Step 4 Choose Product Options: Select the desired size for the chosen product and then click the [Add to Cart] button.
Step 5 Proceed to Checkout: After adding all the products you want to purchase, click on the [Checkout] button.
Step 6 Complete Shipping Information: Please provide all the details for the shipping information.
*We currently offer delivery within Klang Valley (Kuala Lumpur, Selangor), and areas like Kuala Selangor, Sabak Bernam, Banting, etc. Outstation delivery service is temporarily unavailable.
If you choose "Pickup", there will be no shipping fee. You can visit our local shop to collect your products.
Step 7 Complete Payment: Choose either card payment, online banking, or e-wallet as your payment method. Fill in the required details and proceed with the transaction to finalize your purchase.
Step 8 Transaction Completed: Congratulations, you have successfully completed a purchase on MyBarn! Thank you for choosing us. Feel free to visit again for more shopping.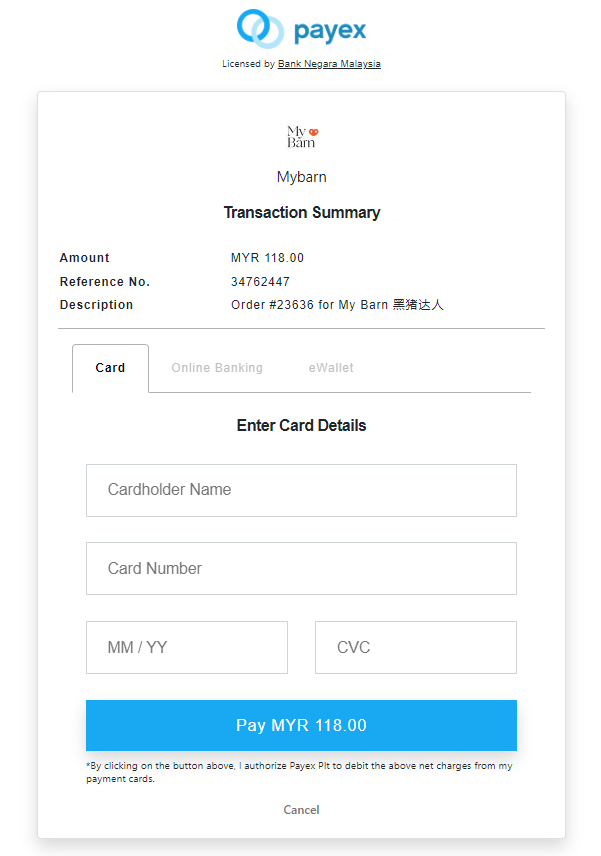 步骤一、注册并登录:首先,注册一个MyBarn账户,或者如果您已经有一个账户,可以直接登录。
步骤二、选择产品类别:以 "西班牙黑毛猪即食系列" 为例,点击 "产品",然后从菜单中选择 [西班牙黑毛猪即食系列]。
步骤三、选择产品:浏览可购买的产品,选择您感兴趣的产品。
步骤四、选择产品选项:为所选产品选择所需的大小,然后点击 [Add to cart] 按钮。
步骤五、进入结账流程:将您想要购买的所有产品添加到购物车后,点击 [Checkout] 按钮。
步骤六、输入完整的配送信息:请提供有关配送信息的所有细节。
*我们目前在巴生谷(吉隆坡、雪兰莪)范围内提供配送,以及类似巴生谷的地区,如巴生、沙白安南、万津等。外地配送服务暂时不可用。
如果选择"自取",将不收取配送费。欢迎您到我们的本地店铺取货。
步骤七、完成支付:选择信用卡支付、在线银行或电子钱包作为支付方式。填写所需的详细信息,然后继续交易以完成购买。
步骤八、交易完成:恭喜您,在 MyBarn 上成功完成了购买!感谢您选择我们。欢迎随时再次光临购物。