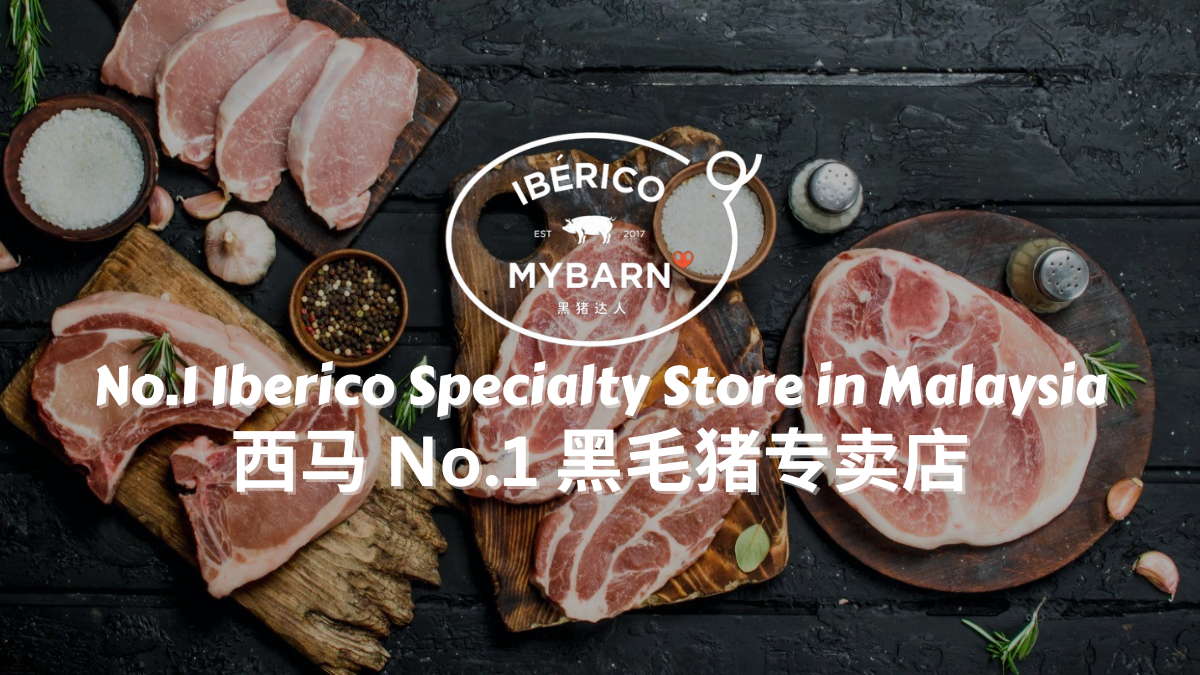 About Us - My Barn
Welcome to My Barn! We are a company dedicated to providing high-quality Iberico products to our customers. We have a passion for fine cuisine, especially the exquisite Iberico known for its high nutritional value. However, in Malaysia, Iberico is relatively scarce.
Therefore, we have made the resolute decision to import Iberico, aiming to share this delicacy and healthful gift with a wider range of food enthusiasts.
As a pioneer in pork delivery, our brand's ambition is to become the foremost supplier of premium pork in the western region of Malaysia and to be recognized as expert in Iberico. Our mission extends beyond merely offering delectable Iberico; we are committed to providing exceptional service and top-quality products to our valued customers. We firmly believe that through continuous effort and innovation, we can achieve the delivery of delicious, high-quality, and convenient Iberico to each and every esteemed customer.
"Our Mission is being the No.1 Seller of Premium Pork Products Online in Malaysia."
1. Meet Safety
2. Distinctive Flavor
3. Health and Wellness
Products that We Carry:
Our main products are premium imported Spanish Iberico Pork and Olive Pork. We also offer a wide selection of ready-to-eat products.
We Are Open 6 Days a Week and Offer Delivery Fulfillment within 3 Hours from the Selected Time Slot:
Our motto is to provide the first On-Demand Delivery service. We pack and prepare the goods for shipment as soon as we receive your order.
Anytime during our business hours, we will arrange the delivery for the next available time slot, or we can accommodate other arrangements as per our customers' preferences.
You Can Order, and We Will Deliver!
For a quicker response, feel free to reach out to us via Facebook Messenger for shopping assistance or recommendations.
We hope you have a wonderful shopping experience with us. Cheers =)
From,
Team My Barn
关于我们 - My Barn 黑猪达人
欢迎来到My Barn!我们是一家致力于为顾客提供优质黑毛猪肉品的公司。我们热爱美食,尤其是珍贵的黑毛猪肉,深知它所蕴含的高营养价值。然而,在马来西亚,黑毛猪肉却相对稀缺。因此,我们毅然决然地选择了进口黑毛猪肉,希望能够将这份美味和养生的礼物分享给更多的食客。
作为一个猪肉快递的先锋品牌,我们立志成为西马地区的顶尖猪肉供应商和黑猪达人。我们的使命不仅仅是提供美味的黑毛猪肉,更是为顾客们提供卓越的服务和高品质的货品。我们坚信,通过不断的努力和创新,我们能够实现将美味、优质和便捷的黑毛猪肉送达每一位尊贵的顾客。
"我们的使命就是要成为马来西亚西马 No.1 的黑毛猪专卖店"
1. 肉品安全
2. 风味独特
3. 健康养生
我们的产品种类:
我们的主要产品是进口的优质西班牙伊比利亚猪肉和橄榄猪肉。此外,我们还提供各种即食产品的丰富选择。
每周营业 6 天,选择的时间段内交付在 3 小时之内完成:
我们的座右铭是提供首个按需交付服务。我们收到您的订单后,立即为货物进行包装和准备发货。在我们的营业时间内的任何时间,我们都会为下一个可用的时间段安排交付,或者根据客户的要求进行其他安排。
您可以立即下单,我们会马上送到你家!
为了更快的回复,请随时通过Facebook Messenger与我们联系,以获取购物帮助或咨询。
我们希望您在我们这里有一个愉快的购物体验。比爱心 =)
来自,
My Barn 黑猪达人团队