"The Pigs That Don't Eat Feed"
What is "The Pigs That Don't Eat Feed"?
It refers to the Spanish Black Iberian pigs sold by our experts at My Barn. The Spanish Black Iberian pig, also known as the Iberian Black pig, is a precious breed mainly found in the Iberian Peninsula regions of Spain and Portugal. In many aspects, the Spanish Black Iberian pig differs significantly from the commonly consumed white pig, including its unique characteristics, farming methods, and nutritional value.
Firstly, one of the most distinctive features of the Spanish Black Iberian pig is its black-colored fur. This is related to its native habitat in the Iberian Peninsula and its unique genetics. Additionally, these pigs typically have slower growth and longer farming cycles, earning them the nickname "slow-growing pigs."
The farming methods for Spanish Black Iberian pigs differ from those of white pigs. They usually grow in natural environments such as mountains, forests, or fields, where they have the freedom to roam and feed on acorns, nuts, and natural herbs. This diet contributes to their distinct meat quality.
These pigs are known for their unique diet, which results in the exceptional flavor and quality of their meat.
"不吃饲料的猪"
什么是 "不吃饲料的猪" ?
就是我们 My Barn 黑猪达人卖的西班牙黑毛猪。西班牙黑毛猪,又称伊比利亚黑毛猪,是一种珍贵的猪种,主要分布在西班牙和葡萄牙的伊比利亚半岛地区。与我们平时食用的白猪相比,西班牙黑毛猪在许多方面都有显著的区别,包括其独特的特征、养殖方式以及营养价值。
首先,西班牙黑毛猪的最显著特征之一就是其黑色的皮毛。这与其伊比利亚半岛原生环境以及特殊的基因有关。此外,这种猪通常生长较慢,养殖周期较长,因此也被称为"慢性生长猪"。
西班牙黑毛猪的养殖方式与白猪有所不同。它们通常生长在自然环境下的山区、森林或农田,自由活动,以橡子、坚果和天然草本植物为食,这使得它们的肉质更为特殊。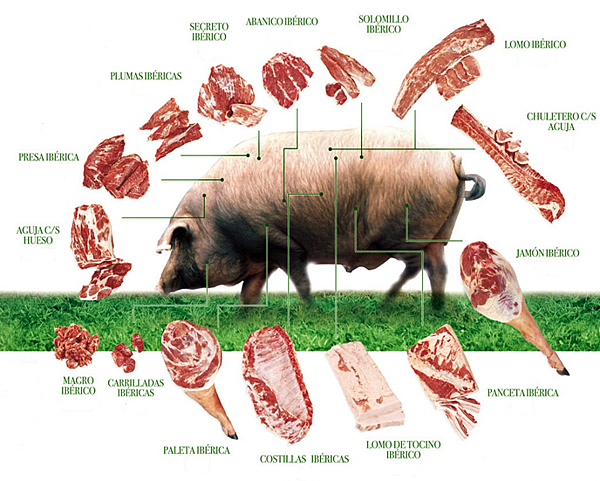 Nutritional Value
The meat of Spanish Black Iberian pigs is not only uniquely delicious but also more compact and rich in fat compared to white pigs. However, these fats primarily consist of unsaturated fatty acids, such as Omega-3 and Omega-6 fatty acids, which are beneficial for cardiovascular health. Additionally, the cholesterol content in Black Iberian pork is lower, making it a healthier meat choice.
Due to their unique rearing methods and nutritional composition, Spanish Black Iberian pork is considered to offer numerous health benefits. It is rich in protein, vitamin B, iron, zinc, and other trace elements, all of which contribute to maintaining normal bodily functions. Moreover, the meat of Black Iberian pigs contains natural antioxidants and anti-inflammatory components, such as Vitamin E and selenium, which help enhance immunity and prevent diseases.
营养价值
西班牙黑毛猪的肉质更加独特而美味。与白猪相比,黑毛猪的肉质更为紧实,富含脂肪,但这些脂肪主要是不饱和脂肪酸,如Omega-3和Omega-6脂肪酸,对心血管健康有益。此外,黑毛猪肉中的胆固醇含量较低,使其成为一种更为健康的肉类选择。
由于其独特的饲养方式和营养组成,西班牙黑毛猪肉被认为具有许多健康益处。它富含蛋白质、维生素B群、铁、锌等微量元素,有助于维持身体的正常功能。同时,黑毛猪肉中的天然抗氧化物和抗炎成分,如维生素E和硒,有助于提高免疫力,预防疾病。